Family of Kanosh man shot by deputy threaten lawsuit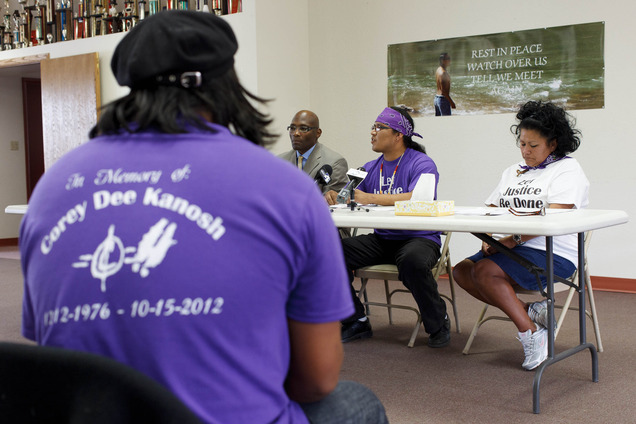 (Trent Nelson | The Salt Lake Tribune) The family of Corey Kanosh held a press conference Tuesday, Oct. 23, 2012 in Kanosh, Utah, seeking answers in Kanosh's death at the hands of a Millard County deputy following a high-speed chase. Left to right, private investigator Christian Warmsley, Jerald Kanosh (Corey's brother) and Gari Lafferty (Corey's aunt).
Family will "seek justice," may sue sheriff, who says deputy did nothing wrong.
By Aaron Falk
As published by The Salt Lake Tribune
Oct 23 2012 01:22 pm – Last Updated Oct 23 2012 11:56 pm
Kanosh – Gari Lafferty watched the ambulance parked along Reservation Road. When dawn broke and the vehicle turned and headed west, Lafferty knew her nephew was dead.
That knowledge has seemingly been the only certainty for the family of Corey Kanosh since the 35-year-old man was shot and killed by a Millard County sheriff's deputy after a high-speed chase last week.
About 45 tribal members gathered Tuesday in their community center, demanding answers from Millard County Sheriff Robert Dekker and threatening a wrongful death lawsuit.
"We are going to seek justice in this case," said the slain man's older brother, Jerald Kanosh. "A warning to Sheriff Dekker and your deputies: We are going to come for you."
Corey Kanosh died on Oct. 15 after being shot by a deputy who claimed he feared for his life during a struggle with Kanosh in the foothills east of the reservation. He was shot in the left arm and left torso, according to a death certificate.
On Tuesday, as Kanosh's family made allegations of excessive force and a botched investigation – even claiming Kanosh's body was moved after he was killed – Dekker promised a renewed effort at communication with the bereft family, while standing by his deputy's actions.
"It's a tough situation for everybody," the sheriff said. "Nobody wins. We've all lost, but we live with one another and we should still be able to do that. All of us want the facts."
According to police officials, the deputy had attempted to pull over Kanosh after his mother called 911 to report that her son was intoxicated and had taken her car from the Kanosh Paiute Indian Reservation. But Kanosh and another man in the car, 21-year-old Dana Harnes of Millard County, sped away and a pursuit began both on paved and unpaved roads, with the suspect vehicle eventually stopping in the foothills east of the town of Kanosh.
Kanosh and Harnes began to run, according to the deputy, who used a Taser to shock Kanosh. A fight ensued when the deputy attempted to take him into custody.
A preliminary investigation by the Utah County Sheriff's Office – which was asked to look at the case as an independent agency – appeared to support the deputy's account.