DA Says Shooting of Danielle Willard Not Justified
August 8, 2013
The Salt Lake County District Attorney announced that the November shooting of Danielle Willard by West Valley City Police was not legally justified.
"My heart goes out to Melissa Kennedy, the mother of Danielle Willard."
– Christian Warmsley, Private Investigator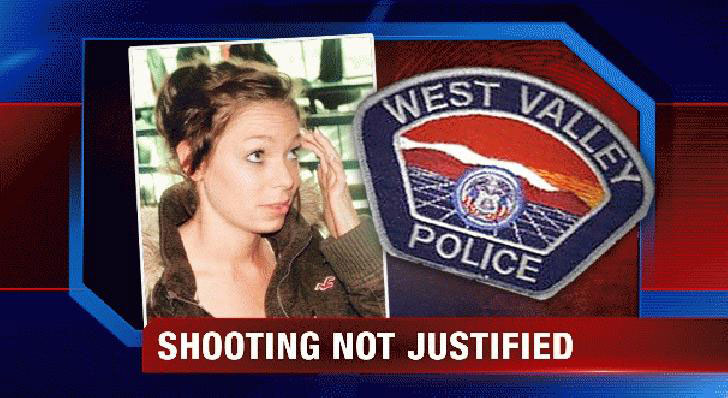 As reported by News Channel 2, kutv.com August 9, 2013
By: Christine McCarthy
(KUTV) After nine months of investigating, Salt Lake County District Attorney Sim Gill announced at a Thursday morning press conference that the fatal shooting of an unarmed 21-year-old woman by West Valley police was not justified.
"The shooting that resulted in the death of Danielle Willard on November 2, 2012, by Detective Salmon and Shaun Cowley was not justified," Gill said.
Gill's office pored over 3,800 pages of evidence, scrutinizing the actions of Det. Shaun Cowley and Det. Kevin Salmon, gathering and combing through forensic evidence, witnesses' statements and accident reconstruction reports.
The officers had been doing narcotics surveillance on Nov. 2. They were in separate cars, but, when Salmon told Cowley he spotted Willard buying drugs from a dealer, Cowley joined him at the Lexington Park Apartments.
The detectives approached Willard's car. Cowley later reported seeing Willard pop into her mouth a black substance that he thought was the drugs she had purchased.
"Det. Salmon could hear [Cowley] saying, 'Open the door,' and 'Spit it out,'" Gill said of Salmon's statement to investigators.
A medical examiner never found the drugs in Willard's system, but investigators located narcotics in the pocket of her car door, Gill said on Thursday.
The detectives asked Willard to open the door, but she wouldn't, they said. The officers then tried to break the windows but couldn't make entry, they reported. Willard's demeanor was described not as excited but aloof with a "blank stare."
Cowley left to retrieve a tool from his car to break a window. When he returned, Willard had put the car in reverse and began screeching toward him, hitting him, Cowley later claimed. That's why, he said, fearing for his life, he fired the bullet that killed Willard.
"Two shots were fired by Det. Cowley. The first and fatal shot went through the rear passenger window and in between the head rest in the car and the metal pillar separating the passenger window and the rear window," Gill said. "This shot struck Ms. Willard on the top left of her head and as her head was leaning to the left."
Cowley fired his gun once more into the car. Salmon fired four times, once hitting Willard's chin, the D.A. said.
Salmon told investigators he had seen Willard hit his partner with her car, but he later changed his story, according to Gill.
"When pressed, he indicated that he did not actually see Det. Cowley get hit, but rather that he saw Det. Cowley falling, and, while falling, firing his gun," Gill said.
Gill's 40-page final report also defies the officers' claims by stating that Willard wasn't driving fast enough to endanger them and that bullet trajectory evidence proves Cowley wasn't standing behind the car but beside it. Willard had been backing up slowly in a counterclockwise direction that wasn't threatening to Cowley, the D.A. said.
"The angle of the shots fired by Det. Cowley place him on the side of the vehicle driven by Ms. Willard," Gill said. "He would not be able to obtain the narrow angle of the shot from behind Ms. Willard's vehicle, but only from the side of the vehicle."
By finding the shooting unjustified, the D.A. will now move on to the second phase of investigating to determine if criminal charges should be filed.
"These decisions may not be easy for me. They may be hard, but I will make the decision that is called for and that is right," Gill said. "If you fail to hold a bad officer accountable, good officers suffer."
The officers remain on paid administrative leave, as West Valley police complete their own investigation said by Deputy Chief Mike Powell to be in the final stages.
Danielle Willard's mother, Melissa Kennedy released the following statement in response to the ruling:
"On behalf of Danielle's family we appreciate District Attorney Sim Gill's investigative findings that Danielle's killing was not justified. The findings confirm what we have always known, Danielle was murdered. Thank you. Melissa Kennedy."
(Copyright 2013 Sinclair Broadcasting Group.)